A blender is the kind of assistant that can provide you with fruit and vegetable smoothies, cream soups, sorbets, mousses, minced meat, whipped cream, ground coffee and crushed ice. In this material we will tell you how to choose one of these blenders for your home and which device is best for you – stationary or immersion.
Which blender is best for you, submersible or stationary?
In fact, the best blender is the one that best suits your needs. Let's look at each type one at a time.
Submersible blenders consist of a plastic or metal "handle" with an internal motor and a rotating nozzle (there can be several). It grinds, mixes and churns the immersion blender in any container (yours or the one supplied with the device). Advantages: compactness, mobility, the ability to process small portions, the ability to independently change the position of the knife (as opposed to stationary models), versatility through the presence of nozzles for different purposes. It turns out that one immersion blender can replace a kitchen combine, coffee grinder, meat grinder, mixer, mashed potato shaker, etc., which can be used as a blender. Minuses: the immersion blender needs to be held (however, it's not that difficult because the device works quickly); if handled carelessly, the contents of the container may splash. Who should choose an immersion blender: those who prepare cocktails/soups most often made from soft vegetables/fruits/berries, those who often need to prepare small portions (for example, fresh baby food for the child), owners of small kitchens.
Stationary blenders consist of a jug with a knife at the bottom and a base with a motor. Pros: the work of a blender almost does not require your participation; it is much more convenient to prepare soups and drinks for several people at once, and then immediately pour them over glasses. A stationary blender is cheaper than a submersible one, it is easier to take care of it, as most models have a self-cleaning function. Minuses: its main disadvantage – the inability to prepare small portions (most often the volume of the product should be more than 250 ml). In comparison with the immersion blender, the stationary device is more cumbersome. Who should choose a stationary blender: those who often make cocktails and smoothies, and in large quantities. For athletes, vegetarians and people who follow a healthy lifestyle, this device is simply indispensable.
How to choose an immersion blender for home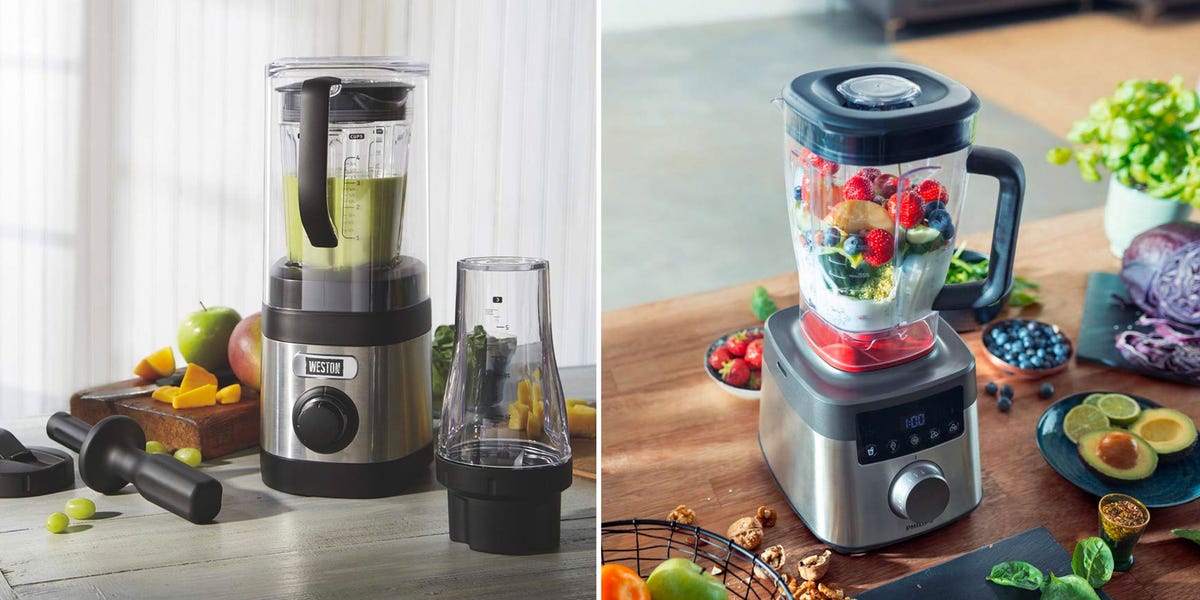 Step 1 Power
Power is the first important criterion for selecting an immersion blender. It can be 140-1200 W. The more powerful the blender, the faster it works, the less chance it has of overheating and the harder products it is able to process.
To be able to handle most tasks, a submersible blender must have at least 450W of power.
If you want to use the blender to break ice or process complex products (e.g. meat or carrots), you should purchase a 600-800 Watt device.
Step 2: Speeds and modes
The immersion blender can have from 1 to 30 speeds. The more of these speeds, the more precise you can adjust the blade speed depending on the hardness of the product, your target or the height of the container (in low bowls, to avoid splashing, you should blend the food at a low speed).
After all, the higher the speed, the more thoroughly and faster the blender shreds, mixes and churns. But at low speeds, the blender works better with hard and viscous products.
So, if, for example, you want to prepare the most delicate pate, then cooked meat should be processed first at low speed, and then at the highest.
In fact, blenders with a large set of speed modes are needed, perhaps, only for real cooks, who cook according to complex recipes. For the majority of users 5-8 speeds will be quite enough. To perform the simplest tasks, a blender with two speeds will also be suitable.
In addition to a set of speeds, submersible blenders can have additional modes. Thus, almost all blenders have a turbo mode – maximum speed mode, which is useful to turn on at the end of the work to achieve a particularly uniform and delicate consistency of the dish. Some blenders have an "ice pick" and "pulse mode" mode. An ice pick is needed, actually, for ice pick and cocktail preparation, as well as for processing of hard products, such as frozen fruits or nuts.
Pulse mode is also necessary for the treatment of particularly hard products (including the same ice). But with it, the blender works with short pauses and only when the button is held down, so the motor does not overheat. The speed in impulse mode can be adjusted by pressing the button, which is very convenient.
One more thing: the blender speed can be switched smoothly or in steps. The first option is slightly more convenient.
Step 3: Nozzles and accessories
Most immersion blenders have three basic nozzles: a blender nozzle for grinding and mixing, a whisk whisk and a shredder in a bowl. Other blender attachments are a big advantage, as they make the device more functional. Let's take a closer look at each nozzle type.
Blender nozzle. It crushes and mixes and handles most tasks: making cream soups, smoothies, cocktails, etc. It has a knife at the end and a closing dome, which is designed to minimize spattering. Most often, the knife of the main nozzle can not be changed, but sometimes there are also models with removable knives for different purposes.
Whisk for beating. A whisk is needed for whipping cream, eggs, cream, mayonnaise, butter, kneading dough, and so on. A blender whisk, like a mixer, can be drop-shaped (for liquid masses) or spiral-shaped (for thick masses). Most often, a blender has a single corolla, but some models may have two mini corolla.
Bowl-shredder. It is a bowl with a blade foot installed in the center, which is activated by connecting a handle in the lid of the bowl. The bowl can have one universal shredder knife or several replaceable ones. For example, a disc for cutting any soft food into slices, a potato grater (pictured) or an ice pick. The volume of the shredder bowl can be from 0.35 to 2.2 liters.
Grinder. Looks like a small bowl with a knife at the bottom. It is convenient to grind hard products in small amounts, such as black peas, coffee beans, garlic, sugar, etc. in a convenient way. The volume of the mill can be only 0.05 – 0.7 l.
Vacuum pump. Pumps air out of special vacuum containers (supplied as a set or purchased separately), so that the products are stored in them several times longer.
Nozzle for mashed potatoes. It has a plastic knife, not a metal knife, which does not whisk but rubs the potatoes at low speed, thus easily turning them into a delicate and uniform mashed potato. This is a very useful addition to the blender, because its main nozzle turns potatoes into a low-edible glue.
Step 4: Body and nozzle material
The body of both handles and main blender nozzle can be made of plastic or metal.
It is desirable that the nozzle is made of metal, so you can immerse the blender even in a pot with boiling soup. Plastic can only process moderately hot and warm products, in addition, it can break when falling and wear out over time.
But the material of the handle body may well be plastic. Here you should focus only on your taste, and, say, the interior of the kitchen. The main thing is that the pen has rubberized inserts, so that you can hold it firmly while the blender is working.
Step 5: Wire/battery
Most often blenders have ordinary power supply cords up to 1.5 m long. But if you want to be able to process food freely moving around the house, say, to look after your child along the way, it is worth choosing a wireless immersion blender. However, due to the battery, the immersion blender weighs more than usual, its battery life is not too long (20-30 minutes), and its power is less.
Further we suggest you to read the following video with a review of the immersion blender by Bosch and tips for choosing the device from the user.
How to choose a stationary blender (shaker)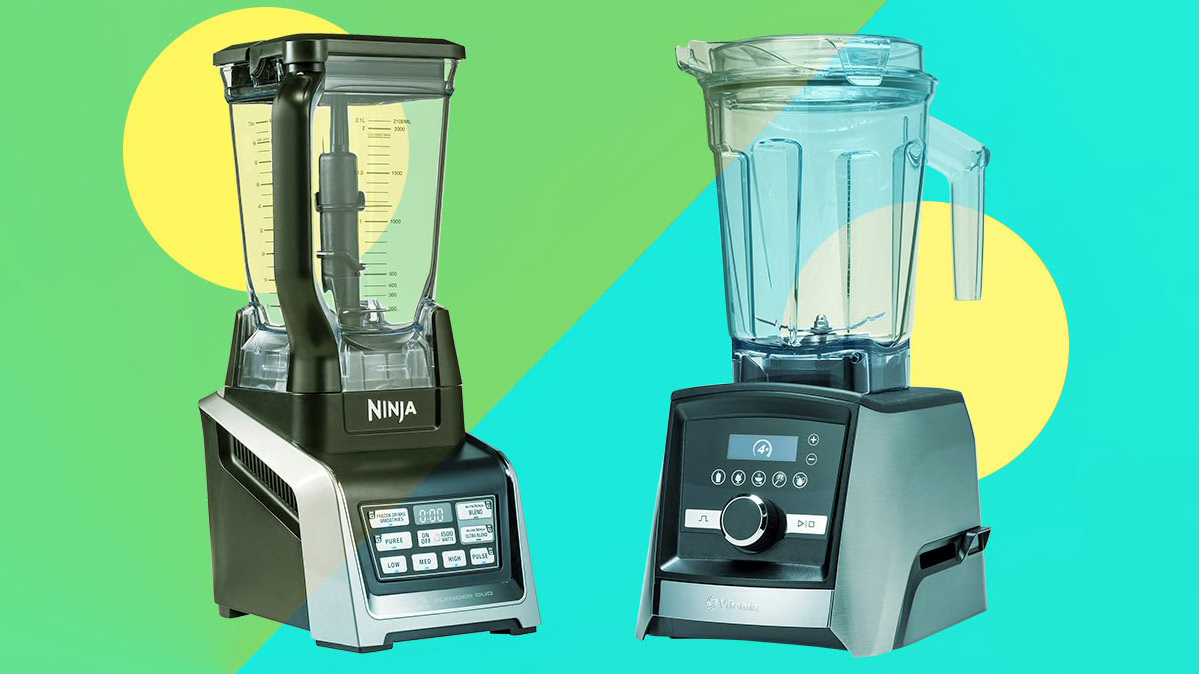 Step 1. Power. The first thing you should pay attention to when choosing a stationary blender is power. Most stationary blenders have a power of 500-900 W, but some home models have a power of 1200-1350 w.
The higher the motor power, the better the blender is. At the same time, it is noisier and more expensive.
Powerful models from 750 to 900 W are able to handle nuts, frozen fruit/berries, ice, smoothies and creams of thick consistency well, for a long time and often. Models with more than 1000 watts are needed for whipping dough. If you most often do not cook frozen soft fruits and vegetables, you should not overpay for high power, and a blender 600 W will cope with most tasks.
Step 2: Knives. Knives are the most important part of a blender after a motor. In a stationary device there can be 1 or 2 knives (with crossed blades).
The more blades at the knife, the faster the blender will grind the products.
Knives come in many different shapes, but in general they can be divided into curved and straight blades.
Curved knives grind and mix products more thoroughly and evenly than straight knives.
It is desirable that the knives are large, made of high quality and strong stainless steel.
Step 3: The volume of the jug. The size of the jug shows how much maximum volume of food you can cook at a time. Depending on your needs, you can choose an appliance with a capacity from 1 to 2 liters. Keep in mind that the useful volume of the jug is 200-300 ml less than the indicated total volume.
Blender with a large jug of 1.5-2 liters allows you to make mashed soups and cocktails for several people at once.
Blender with 1-liter jug is suitable for making cocktails for two or three people and baby food.
Some manufacturers also specify the minimum weight that a blender can shred (usually 250 g/ml). If you load less weight/volume products into a bowl, the device will simply not be able to grind them, but will only soil the bowl.
Step 4: Base with motor unit. When choosing a stationary blender, pay attention to the width and weight of its base. The bigger and weigher it is, the more stable the device will be in operation. This is especially necessary when working at high speeds or processing solid products.
Rubber feet or pads are also necessary for the stability of the base. Let them be very small, the main thing is to have them.
It is good if the base will have a cord storage compartment.
Step 5. Materials. Now you need to define the material of the device, as a jug, and the base.
The jug can be glass, plastic, metal or made of composite material. Plastic is good in that it is lightweight, easy to handle, cheapens the cost of the device, but has the property to scratch and it can not handle hot products (if it is not a special thermoplastic). The glass jug is heavier and therefore less easy to handle, in addition, it can be broken. But it looks more beautiful, does not scratch, and most importantly – allows the processing of hot products. The metal bowl is good for everyone, but it is opaque and very expensive. An ideal jug can be called a pitcher made of composite material. It is lightweight, comfortable, durable, heat-resistant, the only disadvantage is its high price. Whatever capacity you choose to use, make sure it is dishwasher safe.
The base of the stationary blender can be made of plastic or stainless steel. Plastic models are cheaper and lighter in weight, but less impact-resistant. Stainless steel appliances are more expensive, stronger, weigher and therefore more resistant. However, you cannot say that the base case material gives any special advantages to the device, so choose according to your budget and taste. Let's add only that on the black plastic and polished steel fingerprints, dirt stains, as well as scratches are more visible.
Step 6: Speeds. Knife rotation speed is another criterion for choosing a stationary blender. Modern models can have from 1 to 20 speed modes. Some devices have up to 30 speeds. Why does a blender need so many different speed modes? The fact is that the higher the speed of the blender, the faster and more thoroughly the blender crushes the product, but this is not always necessary. So, for example, if you need to grind something to the state of homogeneous mashed potato, you should process the product at the highest speed. If it is necessary to get not large chopped pieces, it is better to start the device at a low speed. Thus, the more speed programs the device has, the more kinds of products it can process.
However, an ordinary blender with 4-6 speeds can successfully handle most tasks.
In addition to speed modes, the stationary blender can have turbo mode and pulse mode.
Turbo mode is the mode that crushes food at the highest speed. It is better to turn it on at the very end of processing to achieve a homogeneous and delicate consistency.
Pulse mode has almost all models, and some have only it. The peculiarity of pulse mode is that the knives rotate quickly and intensively, but with short pauses and only when the button is held down. Despite the speed and power of the motor during processing, say, the same ice, it does not overheat.
Step 7: Control panel. The control panel is not the most important part of the device, but you should pay attention to it too. A blender with touch buttons is easier to keep clean, but it will cost more. On the other hand, mechanical control is more convenient (especially in gear change) and for many people it is more usual.
Step 8: Additional bonuses. The pleasant bonuses of the blender include the presence of: a spout or faucet for direct product pouring from the jug (pictured), the system of overheating shutdown, self-cleaning system.